Yu'Speak French Kid Winter Camps in Whitehorse
3 to 5 days camps with overnights in french immersion
All our camps include tent overnights and are located at Fish Lake, a 35 minutes drive from Whitehorse.
Our kid winter camp in French Immersion will give to your children the opportunity to practice French at all levels, it is also an easy and fun way to get back into before going back to school.
Our winter camps are supervised by two French instructors & outdoor guides. We offer various activities such as crosscountry and nordic backcountry skiing, snowshoeing, orienteering and treasure hunts, art/craft/DIY activities etc..., all, on the trails and frozen lakes surrounding our log cabin at Fish Lake. The children will also spend a lot of time with our sled dogs which are an integral part of camp life, including during activities.
Kids will also experience overnights in our warm and comfy Arctic Oven Tent, with their guides.
Activities can include some writing and reading work to learn more vocabulary through games.
Classic Cross-country ski gear (preferably fish-scales)
Day Backpack
Your smile!
Location
Organization
Everything is organized according to the conditions and possibilities and what the children want. The children also help to cook and wash the dishes with us.
The children sleep in an arctic oven tent heated with a wood stove on our land close to our cabin. One of us will sleep with the kids.
Food
All food and activities are included. Fabien and I will supervise all the activities. 
We can accommodate most of the food specificities (we are gluten free and can easily adapt for vegetarians and allergies).
Group size
We take a maximum of 4 children at a time and accept to run a camp from 2 children. Usually the children come in groups of 2 to 4 and already know each other (siblings and/or friends). So if your children have friend(s) they would like to come with, we can create a group.
Price
$435 for a 3 day camp
$580 for a 4 day camp
$725 for a 5 day camp
It includes:
Coaching by two French experienced outdoor instructors
Nordic backcountry ski pack (skis, boots and poles)
All meals (breakfast, lunch, diner and snacks)
All the activities
Arctic Oven Tent-sleeping bags and mats "special cold"
Safety gear (bear spray, satellite phone, first aid kit)
See more
You can visit
our profile page
 to know more about us. Do not hesitate to visit our
facebook page
as well, you will see many pictures of our previous camps.
You and your family can come and visit us previous the camp.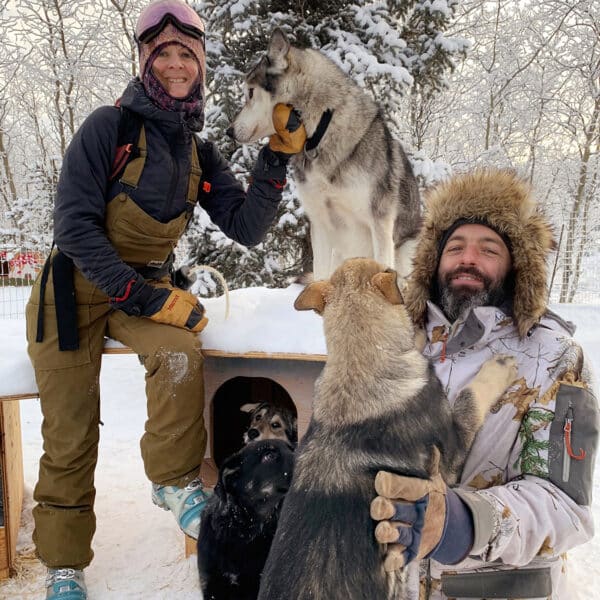 Passionated, knowlegeable, experienced guides and instructors, and parents of a little girl. In addition to guiding experience, Raphaelle is a cross-country and touring ski certified instructor. She is also assisting in teaching French at the Yukon Montessori Elementary School in Whitehorse. Fabien is a Canadian ski patrol and was a professional musher and sleddog racer until recently. Both guides have their Wilderness Advanced First Aid.
The groups are very small, 2 to 5 participants to allow for an immersive experience, an intimate connection with nature and with a low environmental impact.